2. Confirmation of Bayesian skills
Source:
vignettes/example2.Rmd
example2.Rmd
This vignette can be referred to by citing the package:
Makowski, D., Ben-Shachar, M. S., & Lüdecke, D. (2019). bayestestR: Describing Effects and their Uncertainty, Existence and Significance within the Bayesian Framework. Journal of Open Source Software, 4(40), 1541. https://doi.org/10.21105/joss.01541
---
Now that describing and understanding posterior distributions of linear regressions is not that mysterious to you, we will take one step back and study some simpler models: correlations and t-tests.
But before we do that, let us take a moment to remind ourselves and appreciate the fact that all basic statistical procedures such as correlations, t-tests, ANOVAs, or chi-square tests are linear regressions (we strongly recommend this excellent demonstration). Nevertheless, these simple models will provide a good pretext to introduce a few more complex indices, such as the Bayes factor.
t-tests
"I know that I know nothing, and especially not if versicolor and virginica differ in terms of their Sepal.Width" - Socrates.
Time to finally answer this crucial question!
Versicolor vs. virginica
Bayesian t-tests can be performed in a very similar way to correlations. As we are particularly interested in two levels of the Species factor, versicolor and virginica. We will start by filtering out from iris the non-relevant observations corresponding to the setosa specie, and we will then visualise the observations and the distribution of the Sepal.Width variable.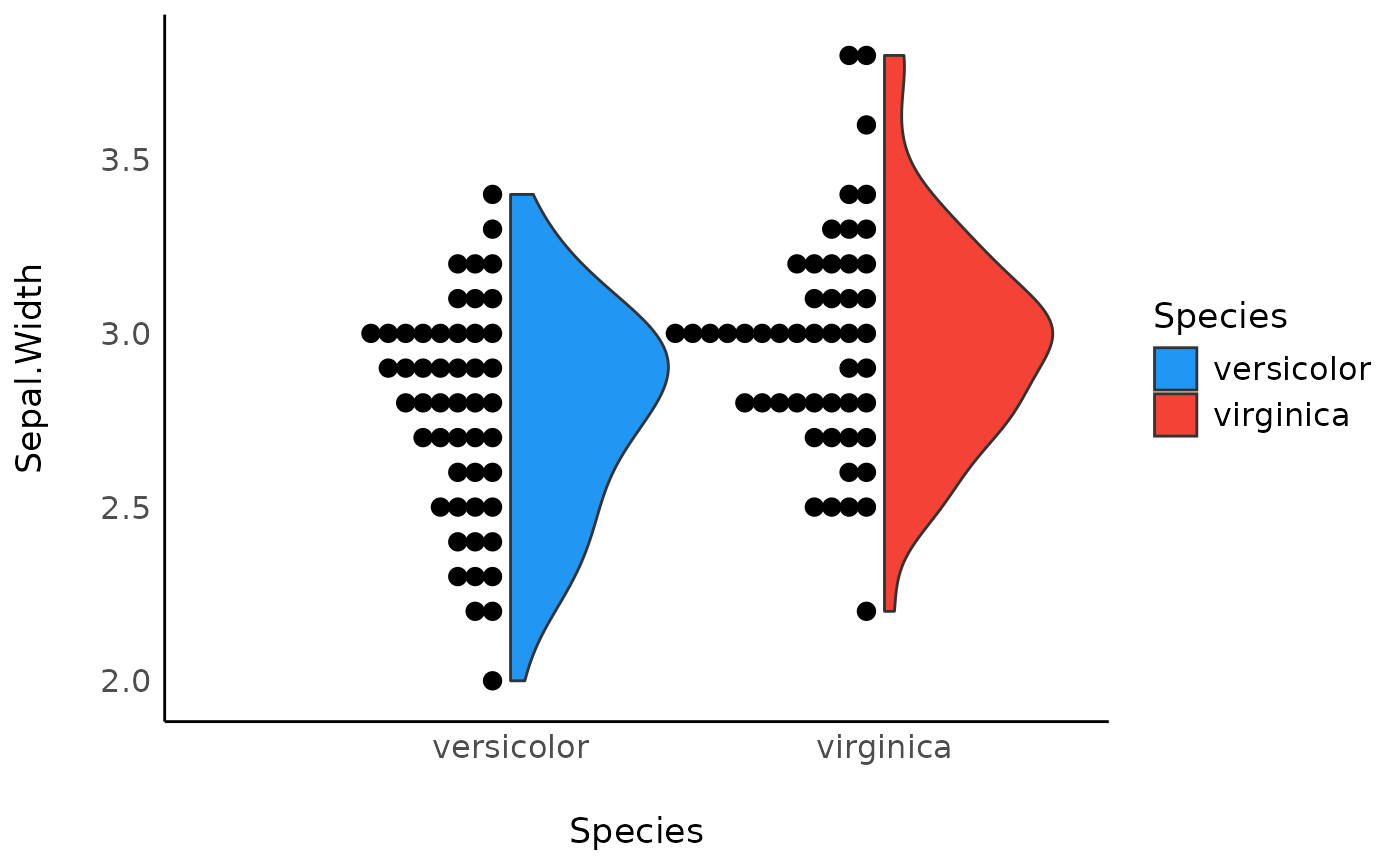 It seems (visually) that virgnica flowers have, on average, a slightly higer width of sepals. Let's assess this difference statistically by using the ttestBF() function in the BayesFactor package.
Compute the Bayesian t-test
> Summary of Posterior Distribution
> 
> Parameter  | Median |         95% CI |     pd |          ROPE | % in ROPE |    BF |              Prior
> ------------------------------------------------------------------------------------------------------
> Difference |  -0.19 | [-0.32, -0.06] | 99.75% | [-0.03, 0.03] |        0% | 17.72 | Cauchy (0 +- 0.71)
From the indices, we can say that the difference of Sepal.Width between virginica and versicolor has a probability of 100% of being negative [from the pd and the sign of the median] (median = -0.19, 89% CI [-0.29, -0.092]). The data provides a strong evidence against the null hypothesis (BF = 18).
Keep that in mind as we will see another way of investigating this question.
Logistic Model
A hypothesis for which one uses a t-test can also be tested using a binomial model (e.g., a logistic model). Indeed, it is possible to reformulate the following hypothesis, "there is an important difference in this variable between the two groups" with the hypothesis "this variable is able to discriminate between (or classify) the two groups". However, these models are much more powerful than a t-test.
In the case of the difference of Sepal.Width between virginica and versicolor, the question becomes, how well can we classify the two species using only Sepal.Width.