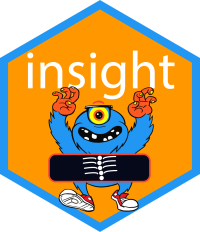 Convergence test for mixed effects models
Source:
R/is_converged.R
is_converged.Rd
is_converged() provides an alternative convergence test for merMod-objects.
Arguments
x

A merMod or glmmTMB-object.

tolerance

Indicates up to which value the convergence result is accepted. The smaller tolerance is, the stricter the test will be.

...

Currently not used.
Value
TRUE if convergence is fine and FALSE if convergence is suspicious. Additionally, the convergence value is returned as attribute.
Examples
if

 

(

require

(

"lme4"

)

)

 

{


  data

(

cbpp

)


  set.seed

(

1

)


  

cbpp

$

x

 

<-

 rnorm

(

nrow

(

cbpp

)

)


  

cbpp

$

x2

 

<-

 runif

(

nrow

(

cbpp

)

)





  

model

 

<-

 glmer

(


    cbind

(

incidence

, 

size

 

-

 

incidence

)

 

~

 

period

 

+

 

x

 

+

 

x2

 

+

 

(

1

 

+

 

x

 

|

 

herd

)

,
    data 

=

 

cbpp

,
    family 

=

 binomial

(

)


  

)





  

is_converged

(

model

)




}




#>

 boundary (singular) fit: see help('isSingular')


#>

 [1] TRUE


#>

 attr(,"gradient")


#>

 [1] 8.444976e-05





# \dontrun{




if

 

(

require

(

"glmmTMB"

)

)

 

{


  

model

 

<-

 glmmTMB

(

Sepal.Length

 

~

 poly

(

Petal.Width

, 

4

)

 

*

 poly

(

Petal.Length

, 

4

)

 

+


    

(

1

 

+

 poly

(

Petal.Width

, 

4

)

 

|

 

Species

)

, data 

=

 

iris

)





  

is_converged

(

model

)




}




#>

 Loading required package: glmmTMB


#>

 

Warning: 

Model convergence problem; non-positive-definite Hessian matrix. See vignette('troubleshooting')


#>

 

Warning: 

Model convergence problem; false convergence (8). See vignette('troubleshooting')


#>

 [1] FALSE


# }