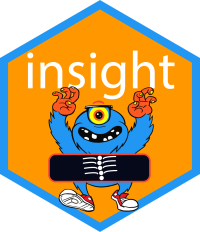 Extract model residuals
Source:
R/get_residuals.R
get_residuals.Rd
Returns the residuals from regression models.
Usage
get_residuals

(

x

, 

...

)





# S3 method for default




get_residuals

(

x

, weighted 

=

 

FALSE

, verbose 

=

 

TRUE

, 

...

)
Arguments
x

A model.

...

Passed down to residuals(), if possible.

weighted

Logical, if TRUE, returns weighted residuals.

verbose

Toggle warnings and messages.
Note
This function returns the default type of residuals, i.e. for the response from linear models, the deviance residuals for models of class glm etc. To access different types, pass down the type argument (see 'Examples').
This function is a robust alternative to residuals(), as it works for some special model objects that otherwise do not respond properly to calling residuals().
Examples
data

(

mtcars

)




m

 

<-

 lm

(

mpg

 

~

 

wt

 

+

 

cyl

 

+

 

vs

, data 

=

 

mtcars

)




get_residuals

(

m

)




#>

           Mazda RX4       Mazda RX4 Wag          Datsun 710      Hornet 4 Drive 


#>

          -1.0559619          -0.2281383          -3.4822509           0.7514545 


#>

   Hornet Sportabout             Valiant          Duster 360           Merc 240D 


#>

           2.0342659          -1.7531855          -1.9437064           0.9420887 


#>

            Merc 230            Merc 280           Merc 280C          Merc 450SE 


#>

          -0.7877660          -0.7181129          -2.1181129           1.7794773 


#>

          Merc 450SL         Merc 450SLC  Cadillac Fleetwood Lincoln Continental 


#>

           1.5757124          -0.3619692          -0.3898093           0.1750587 


#>

   Chrysler Imperial            Fiat 128         Honda Civic      Toyota Corolla 


#>

           4.2185956           5.7281850           1.8290601           6.0432610 


#>

       Toyota Corona    Dodge Challenger         AMC Javelin          Camaro Z28 


#>

          -4.3115276          -0.9060247          -1.4819660          -2.0671872 


#>

    Pontiac Firebird           Fiat X1-9       Porsche 914-2        Lotus Europa 


#>

           3.8490446          -0.2321023          -0.3424249           1.4979307 


#>

      Ford Pantera L        Ferrari Dino       Maserati Bora          Volvo 142E 


#>

          -1.7422533          -1.8690068          -1.2437064          -3.3889219 





m

 

<-

 glm

(

vs

 

~

 

wt

 

+

 

cyl

 

+

 

mpg

, data 

=

 

mtcars

, family 

=

 binomial

(

)

)




get_residuals

(

m

)

 

# type = "deviance" by default




#>

           Mazda RX4       Mazda RX4 Wag          Datsun 710      Hornet 4 Drive 


#>

         -0.63287224         -0.81557679          0.24153475          1.23515879 


#>

   Hornet Sportabout             Valiant          Duster 360           Merc 240D 


#>

         -0.09537483          1.09436219         -0.09536895          0.08620842 


#>

            Merc 230            Merc 280           Merc 280C          Merc 450SE 


#>

          0.09512715          1.08274703          1.12137225         -0.17947784 


#>

          Merc 450SL         Merc 450SLC  Cadillac Fleetwood Lincoln Continental 


#>

         -0.12620688         -0.12450351         -0.53935361         -0.64596525 


#>

   Chrysler Imperial            Fiat 128         Honda Civic      Toyota Corolla 


#>

         -0.67827839          0.20117929          0.40994430          0.28751494 


#>

       Toyota Corona    Dodge Challenger         AMC Javelin          Camaro Z28 


#>

          0.21446014         -0.09381913         -0.08439431         -0.12504287 


#>

    Pontiac Firebird           Fiat X1-9       Porsche 914-2        Lotus Europa 


#>

         -0.15299615          0.31935163         -2.59315645          0.45762007 


#>

      Ford Pantera L        Ferrari Dino       Maserati Bora          Volvo 142E 


#>

         -0.06384435         -0.70853216         -0.09761985          0.15116709 


get_residuals

(

m

, type 

=

 

"response"

)




#>

           Mazda RX4       Mazda RX4 Wag          Datsun 710      Hornet 4 Drive 


#>

        -0.181485065        -0.282930670         0.028748195         0.533645229 


#>

   Hornet Sportabout             Valiant          Duster 360           Merc 240D 


#>

        -0.004537852         0.450537255        -0.004537293         0.003709050 


#>

            Merc 230            Merc 280           Merc 280C          Merc 450SE 


#>

         0.004514367         0.443545885         0.466735567        -0.015977138 


#>

          Merc 450SL         Merc 450SLC  Cadillac Fleetwood Lincoln Continental 


#>

        -0.007932459        -0.007720604        -0.135367880        -0.188308998 


#>

   Chrysler Imperial            Fiat 128         Honda Civic      Toyota Corolla 


#>

        -0.205490858         0.020033170         0.080593721         0.040489884 


#>

       Toyota Corona    Dodge Challenger         AMC Javelin          Camaro Z28 


#>

         0.022734170        -0.004391345        -0.003554867        -0.007787380 


#>

    Pontiac Firebird           Fiat X1-9       Porsche 914-2        Lotus Europa 


#>

        -0.011635687         0.049714423        -0.965342121         0.099412603 


#>

      Ford Pantera L        Ferrari Dino       Maserati Bora          Volvo 142E 


#>

        -0.002035975        -0.221984564        -0.004753484         0.011360719