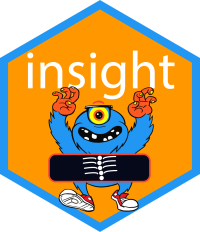 Gather information about objects in ellipsis (dot dot dot)
Source:
R/ellipsis_info.R
ellipsis_info.Rd
Provides information regarding the models entered in an ellipsis. It detects whether all are models, regressions, nested regressions etc., assigning different classes to the list of objects.
Usage
ellipsis_info

(

objects

, 

...

)





# S3 method for default




ellipsis_info

(

...

, only_models 

=

 

TRUE

, verbose 

=

 

TRUE

)
Arguments
objects, ...

Arbitrary number of objects. May also be a list of model objects.

only_models

Only keep supported models (default to TRUE).

verbose

Toggle warnings.
Value
The list with objects that were passed to the function, including additional information as attributes (e.g. if models have same response or are nested).
Examples
m1

 

<-

 lm

(

Sepal.Length

 

~

 

Petal.Width

 

+

 

Species

, data 

=

 

iris

)




m2

 

<-

 lm

(

Sepal.Length

 

~

 

Species

, data 

=

 

iris

)




m3

 

<-

 lm

(

Sepal.Length

 

~

 

Petal.Width

, data 

=

 

iris

)




m4

 

<-

 lm

(

Sepal.Length

 

~

 

1

, data 

=

 

iris

)




m5

 

<-

 lm

(

Petal.Width

 

~

 

1

, data 

=

 

iris

)







objects

 

<-

 

ellipsis_info

(

m1

, 

m2

, 

m3

, 

m4

)


class

(

objects

)




#>

 [1] "ListNonNestedRegressions" "ListRegressions"         


#>

 [3] "ListModels"               "list"                    





objects

 

<-

 

ellipsis_info

(

m1

, 

m2

, 

m4

)


attributes

(

objects

)

$

is_nested




#>

 [1] TRUE





objects

 

<-

 

ellipsis_info

(

m1

, 

m2

, 

m5

)


attributes

(

objects

)

$

same_response




#>

 [1] FALSE