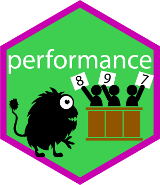 Split-Half Reliability
Source:
R/item_split_half.R
item_split_half.Rd
Compute various measures of internal consistencies for tests or item-scales of questionnaires.
Value
A list with two elements: the split-half reliability splithalf
and the Spearman-Brown corrected split-half reliability spearmanbrown.
Details
This function calculates the split-half reliability for items in x, including the Spearman-Brown adjustment. Splitting is done by selecting odd versus even columns in x. A value closer to 1 indicates greater internal consistency.